What is a sento?
A public bath-house is called a sento in Japanese. Soaking in the soothing hot waters of a large bathtub warms the body through and through, and many people go to the sento regularly even though they have bathtubs at home. They are also spots where local residents chat with their neighbors, and when you visit one you can get a glimpse of the real city that you can't see on the regular tourist circuit.
Credit cards can not be used.
It is a good idea to prepare a lot of small change.

Bathing charge1 time

Adult: 450 yen
6-12 years old: 150 yen
0-5 years old: 60 yen

For this fee, you can bathe in all the different baths at the sento.
Sentos also sell discounted tickets in sets of 10 for 4,300 yen (adult fee).
How to bathe at an ordinary sento
From arrival to the bath
1At the entrance, first take off your shoes and put them in a shoe box.

Be sure to keep the shoe box key.

2Pay fees at the front desk or Bandai(traditional sento reception desk).

Credit cards and electronic money cannot be used.
If you do not have towels or soap, buy them here.

3There are separate entrances for men and women (usually recognizable by color or the kanji 男 [man] and 女 [woman].)

4Take off your clothes in the dressing room.

Please take off everything including underwear. Put your clothes and belongings in a locker and wrap the locker key around your arm. If you have long hair, tie it up so it does not get in the bathwater.
In the bathing room
5First of all, splash hot water on yourself to clean yourself off three or four times.

There are buckets around for this purpose that anyone can use. Some people use the faucets and/or showers in the washing zone.

6Time to get in the bath!

Get in the tub, slowly and gently without splashing. The water is pretty hot, usually a bit over 40 degree Celsius. If you have long hair, make sure it is tied up so it does not get in the bathwater.

7Wash yourself with soap and shampoo.

The faucets in the washing area have red buttons that you push to get hot water, and blue to get cold water. Rinse the washing bucket and the stool lightly and return them to their original places after washing.

8Dry off a bit with your small towel when leaving the bath.

There is an area for this purpose between the bathing room and the dressing room.
It is considered poor manners to go to your locker all dripping wet.
After taking a bath
9Relax after taking a bath.

Cool down with the electric fan or buy a drink.
Six no-nos of public bathing
Do not take a bath when drunk.
Do not jump into a bathtub! Also refrain from swimming around in the tub.
Do not put your towel in the bathwater. Leave it folded on the edge of the tub, etc.
Do not let long hair soak in the bathtub. Tie it back, etc.
Sit rather than standing when taking a shower, and do not splash water on other people.
Do not use more than one space in the washing area or one locker in the dressing room. Be considerate of others.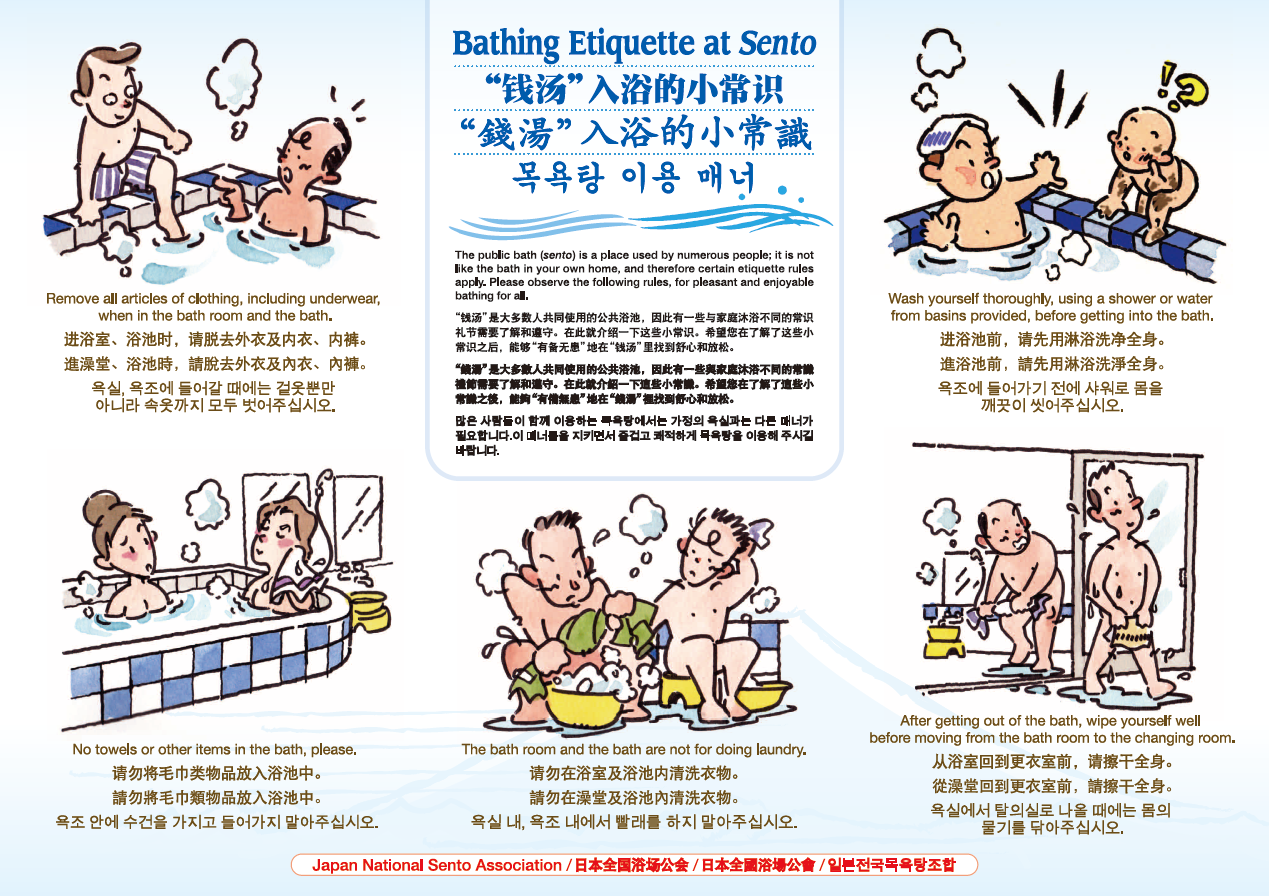 Types of bathtubs
There are various types of bathtubs at sentos. The type and number differ depending on the location.
Shallow bath

This bathtub is shallow and safe for small children.

Deep bath

This deep bath lets you soak all the way up to your shoulders, so it's easy to get warmed up.

Jet bath

Small jets of air blow into the bath so it bubbles like a jacuzzi.
Bubbly water is said to warm you up more thoroughly.


Jet bath

Electric bath

There is a weak electrical current in the water that tingles.
People tend either to love or hate this sensation.
Recommended for advanced bathers only!


Caution: do not get in this bath if you have a heart condition.


Note that the bathtub marked 電気風呂 is an electric bath.

Sauna

There are various kinds of saunas depending on the sento, including electric saunas, mist saunas, far infrared saunas and so forth. They are in separate rooms from the bathing zone.

Cold bath

Bathe in cold water to cool down after the sauna or at the end before getting out.


Cold bath

Aroma bath

This bath contains aromatic bath salts, herbs etc. The variety often changes from day to day.


Aroma bath

Open-air bath

It is refreshing to bathe in an open-air bath. The air is cooler than in the bathing room so you can avoid getting overheated.


Open-air bath
The water in sentos is safe.

The water is disinfected with neutral calcium hypochlorite, etc., and kept clean with filtering machines.